When it comes to building a profitable online business, time and money is always of the essence.
Let's face it, you can invest an enormous amount of time building your site, creating content, paying for paid traffic, paying for SEO as well as actually trying to run and operate your business.
So why not fast track the process, by reverse engineering your competitors?
To me, it only makes sense to replicate what's already working, because chances are the majority of your competitors are already outperforming you.
In this article, I'm going to show you 10 great SEO tools that you can use to take a sneak peek behind the curtain and gather useful data about your competitors. How they're sites are performing, where they're getting links from, the type of content they're publishing that's getting great results and more.
So let's not muck around, here they are. My top 10 favourite tools for gathering insightful data about your competitors – and how you can practically steal their traffic right from beneath their noses.
1. SEMRush
Purpose – Finding out what keywords your competitors rank for
Comments – This is one of my favourite tools as it shows you exactly what keywords your competitors are ranking for. Just enter in their URL and click on search and it will produce a complete listing of all of your competitors keywords. Awesome! You can then export this listing to an excel spreadsheet for future reference. This tool also allows you to see how a site may be trending, as in – if they're making positive ground or if they're slipping away in the search results. You can also see what they're doing in terms of Adwords and paid traffic. This really is a must have tool in terms of keyword research.
Rating – 10/10
Cost – $79pm
URL – http://www.semrush.com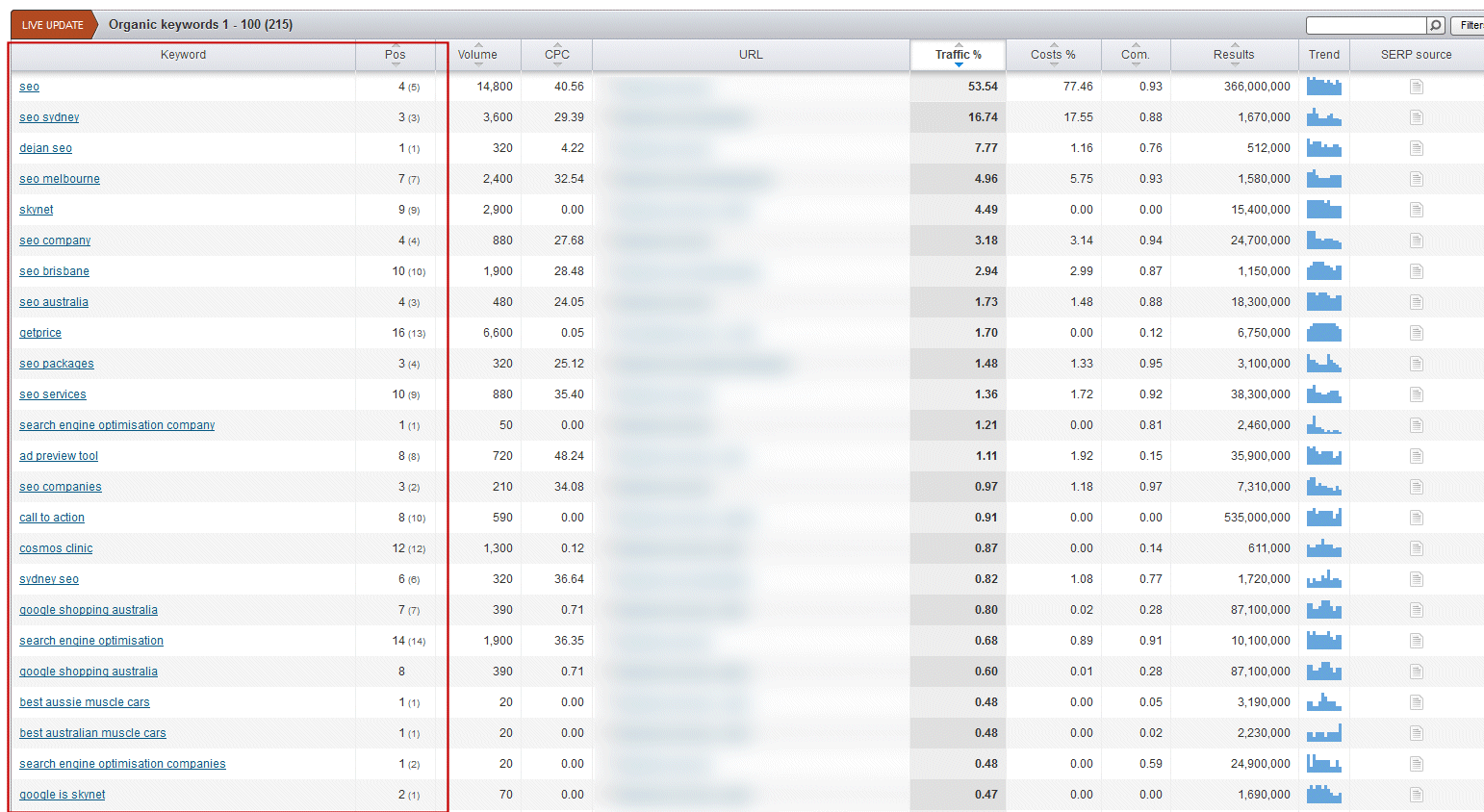 2. Google keyword planner
Purpose – Finding keyword opportunities
Comments – This is without doubt the most well known keyword research tool. Provided by Google for Adwords, the Keyword Planner is pretty straight forward. You can search by individual terms, group by keyword topic, set filters against specific locations and more. Most people use it for regular keyword research, however you can also enter in a competitors URL and do a reverse lookup to see what keywords Google thinks relate to the site itself. Definitely a tool that you should be using if you're involved in SEO.
Rating – 8/10
Cost – FREE
URL – https://adwords.google.com/KeywordPlanner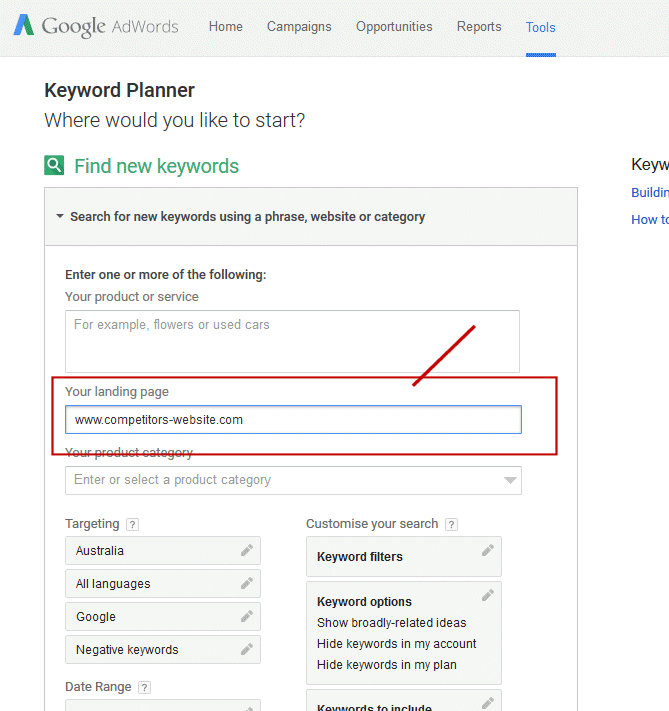 3. Ahrefs
Purpose – Spying on competitors backlinks
Comments – This tool is absolutely bad ass. By far my most heavily used resource in terms of reverse engineering competitors link profiles. Again, much like SEMRush, you simply enter in the competitors URL, perform a scan and Ahrefs will produce a complete listing of all inbound links pointing to that site. From there, you can export to a spreadsheet which is very handy. What I like most about this tool is its simplicity – it just works.
Rating – 10/10
URL – https://ahrefs.com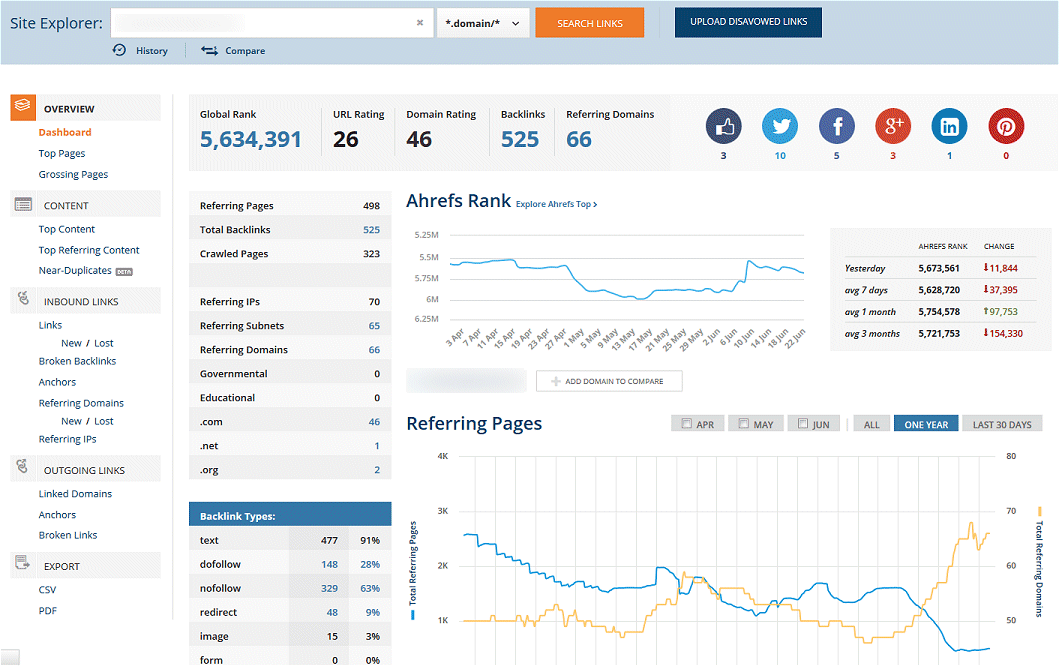 4. Site speed test tool
Purpose – Analysing site speed
Comments – This tool isn't going to give you any fancy or highly usable data or insights that may lead to you outranking your competitors, but it's definitely a tool you should be aware of. It's been noted that Google is now using site speed as a ranking signal, so it doesn't hurt to run your own site through it to ensure your ticking along nicely – and while you're at it, run your competitors through there as well to see what they're up to (how fast their sites are in comparison to yours)
Rating – 8/10
Cost – FREE
URL – https://developers.google.com/speed/pagespeed/insights/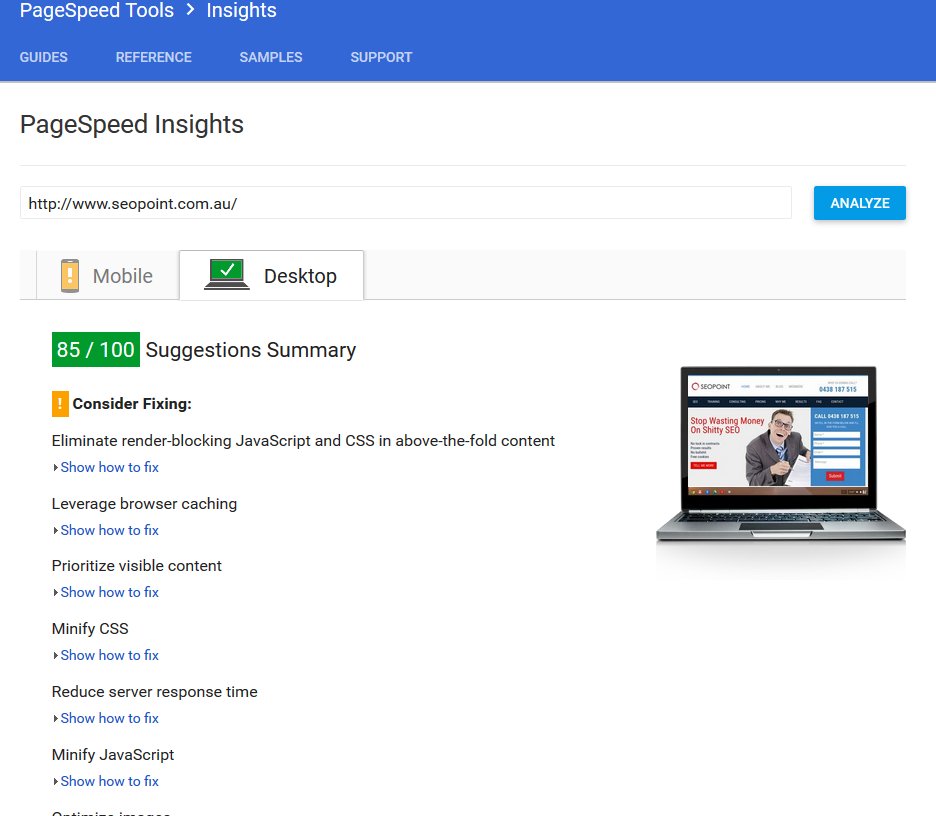 5. Buzzsumo
Purpose – Finding content that's gone viral
Comments – This is a tool that I've just recently started using and I have to say – it's awesome. Buzzsumo allows you to enter a keyword, or a competitors website and perform a search for the most active content. That being of course – content with the most social shares, the most backlinks and so on. This is super important because it allows you to get an idea of what content is already performing in your industry. There's nothing worse than publishing a blog post entry only to get 1 like and no comments. Infact, I used Buzzsumo to generate this article.
Rating – 9/10
Cost – $79pm
URL – http://buzzsumo.com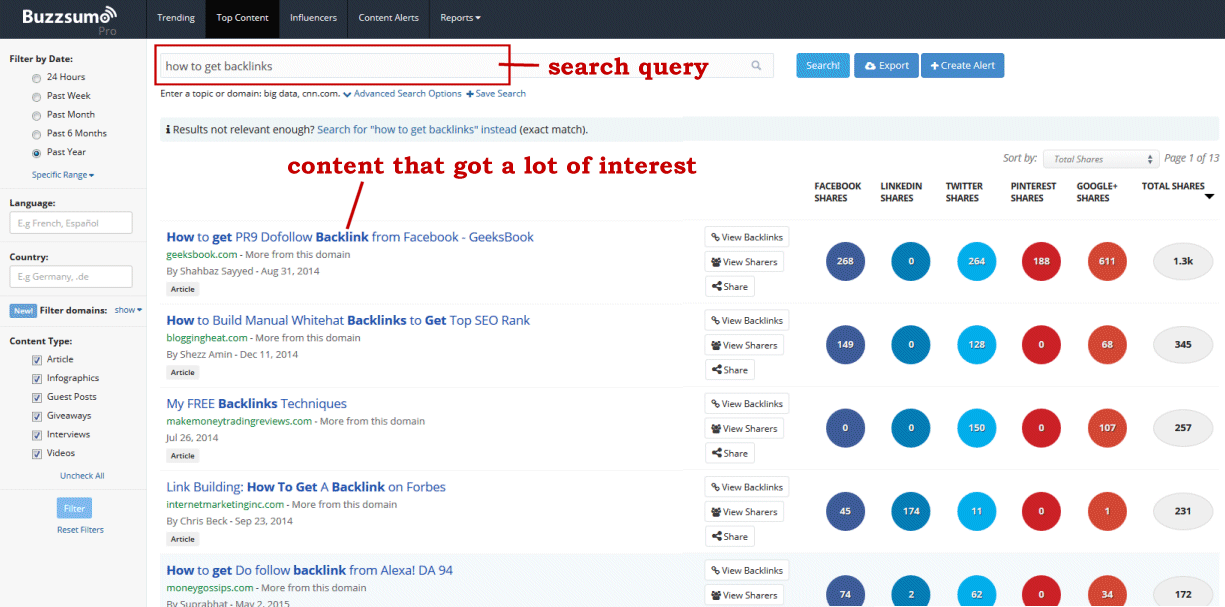 6. Open site explorer
Purpose – Measuring SEO metrics
Comments – Open site explorer is a tool by Moz that allows you to gain intelligent insights at any domain – such as inbound links, best performing pages, social engagement levels, and much more. However, I use this tool mostly to get a better idea of DA and PA. DA stands for "Domain Authority", and it's essentially a proprietary measurement of the strength of the site as a whole. PA stands for "Page Authority", and unlike DA, it's a measurement of strength at the individual page level. Domain authority is something that I use to estimate the level of competition when calculating the degree of difficulty for certain marketplaces or keywords.
Rating – 9/10
Cost – $79pm
URL – https://moz.com/researchtools/ose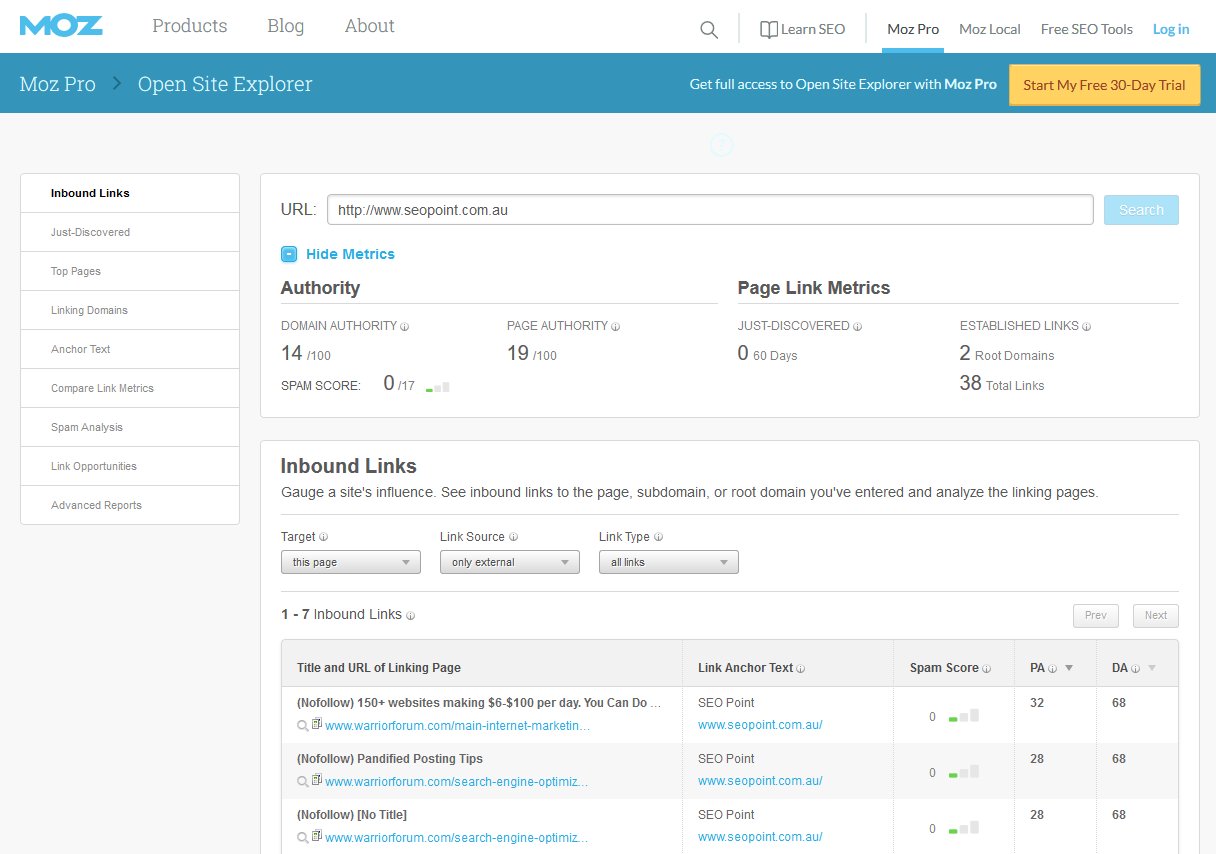 7. SpyFu
Purpose – Reverse engineer competitors SEO keywords and Adwords campaigns
Comments – This is a tool that has been around for quite some time. Spyfu is well known within the SEO industry as one of the "go to" tools, and I can see why. It allows you to not only reverse engineer your competitors organic keywords, but also gain insights into what they're doing with Adwords. In addition, you can also examine the link profiles of your competitors. Here's a full overview of what Spyfu can do.
Rating – 9.5/10
Cost – $79pm
URL – http://www.spyfu.com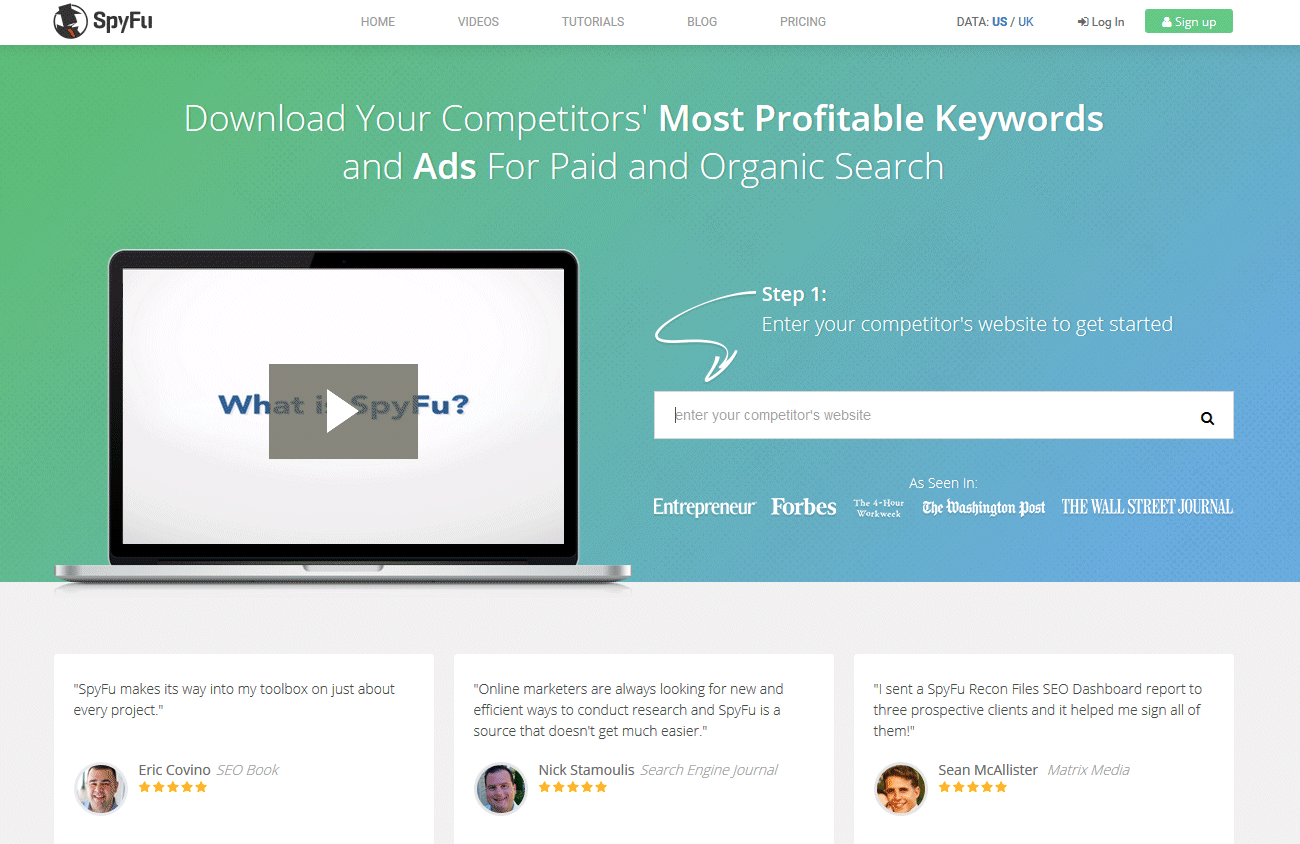 8. Google alerts
Purpose – Keep up to date with brand mentions or target keywords as they're published
Comments – Have you ever wondered where and how your competitors might be getting exposure on the web? Well wonder no more. Google Alerts allows you to monitor any phrase you want – and as it's picked up on the web by Google, they'll email it straight to your inbox. How cool is that? This is a great way of monitoring your competitors brand, or target keywords that you might be interested in ranking for. It's also a great content marketing tool, especially if you're wanting fresh up to date content on a certain topic for curation purposes.
Rating – 8/10
Cost – FREE
URL – https://www.google.com.au/alerts
9. Moat
Purpose – Find competitors banner ads
Comments – This one was only recently brought to my attention, but on the surface it looks quite powerful. Moat works by allowing you to enter in a keyphrase, or brand name, and it will crawl the web and return relevant banner ads within the search results. I could see this being extremely useful if you're spending money on Google's display ad network, or investing towards some form of retargeting.
Rating – 9/10
Cost – Free for basic options
URL – http://www.moat.com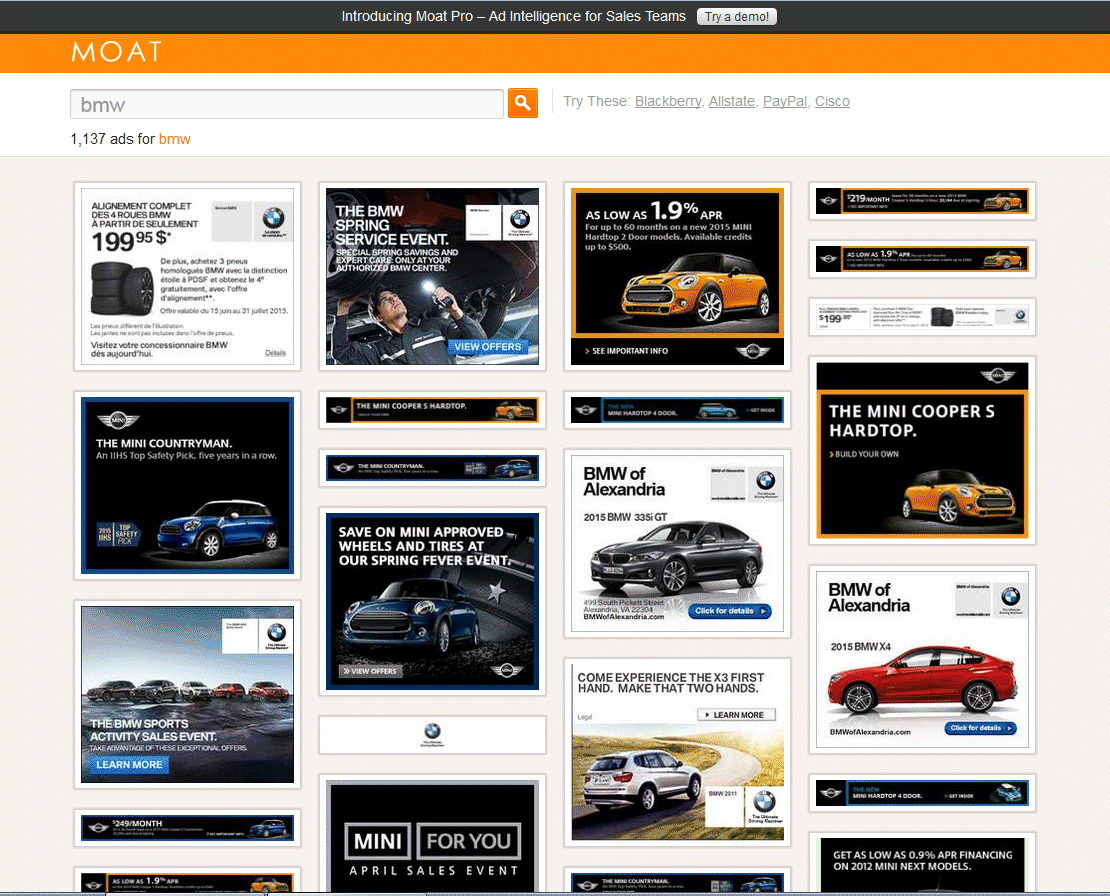 10. Woorank
Purpose – SEO audit tool
Comments – There's a LOT of SEO auditing tools online if you look around – most are junk, but this one by Woorank is actually pretty decent. Especially if you'd like to get an idea of how a competitors site is doing in terms of "onpage SEO". This tool much like the others, allows you to enter in a URL, then have it produce a nice report that you can download in PDF. Doing this would be quite useful, because you get to see things like keywords, site speed, meta tag markup tags, responsiveness (mobile friendly) and a whole heap more. Some of the more advanced features like social metrics are hidden until you become a paying member, but even at the free level, it provides some great insights. Seems a bit pricey at $149pm, but definitely a tool worth having a look at.
Rating – 8/10
Cost – $149pm
URL – https://www.woorank.com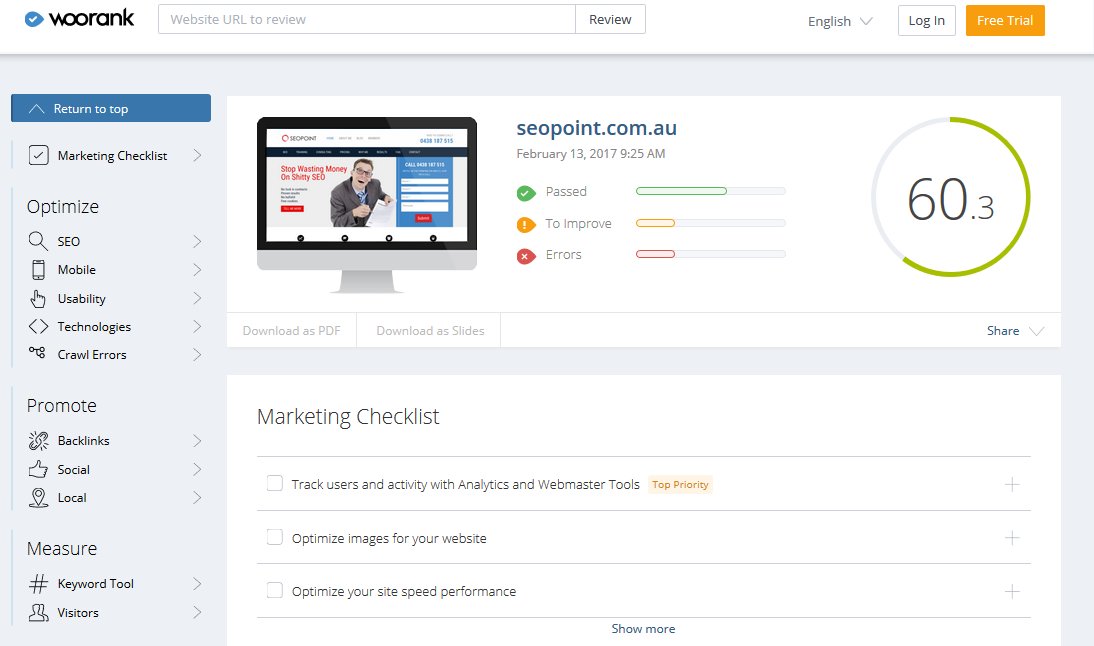 Conclusion
I've always said "It pays to do more of what is already working". This is why my entire SEO process is based upon reverse engineering competitors – because if they're at the top of the search results, it means they're doing something right.
Right?
This is where it makes perfect sense to use the tools mentioned above to research and analyze what your competitors are up to, and work towards replicating. Of course, this doesnt mean just "copying" – it just means, working smarter, instead of just "guessing".
With some forward thinking, and the right tools, you can really gain some useful insights into what your competitors are doing, which will help you plan out your own SEO strategy, which will save you time and money.
So what do you think?
Do you use any of these tools? Are there any others that you know of that I may have forgotten to mention?
If so, let me know. Post up a comment below.