When it comes to content, most site owners already know just how important it is to be publishing ongoing, high quality, engaging, share worthy content. But why is it then, that many site owners get excited and go on to publish one or two blog posts, then stop?
Is it because it's too hard? Too boring? …. or is it that they just don't think there's any value in it?
I think the answer is that they don't see any noticeable results from their efforts – right away. So they abandon it. I know when it comes to publishing content, it can feel as though sometimes you're yelling into an empty room. I mean, you have no followers, no social engagement, and who wants to read your crappy articles anyway? So why bother?
But is that really true? Can content make a real difference? Can content get backlinks, build an audience and generate more business?
My thoughts are, yes, but it's certainly not easy.
I think the in order to get great results with content it's really about a) the quality of your content, and b) how you promote it. As well as how often, how long and your level of consistent commitment, but I'll touch more on that in a moment.
For now, I'm going to share 10 kick ass ways you can dominate your space and have a massive advantage over your competitors when it comes to publishing and promoting your content. (I promise you'll love it, grab a coffee and get comfortable.)
What did Rand say?
Rand Fishkin said in a recent Whiteboard Friday video, "There's no prize in content for hitting Publish".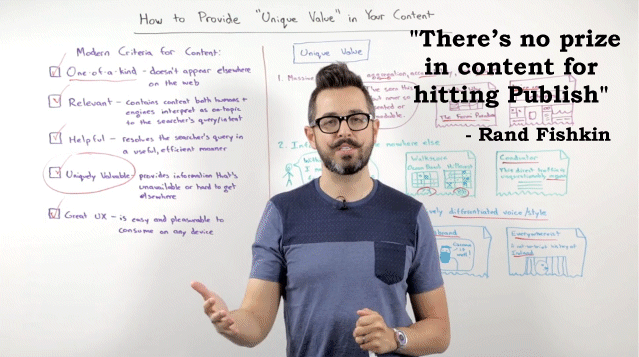 Wow, this is so true.
But what exactly did he mean by that statement?
Rand is essentially reminding us, that even if you do make an effort to publish content, unless it's actually 10x content and you promote it, then chances are – it's impact will be practically nil.
Think about this….how many times have you published a blog post to your website only to find yourself sitting there afterwards waiting for something to happen, and nothing does?
It's depressing isn't it?
You put in all this effort, thinking, "Yes, this will be the best blog post about rollerskates for kittens ever, everyone is going to love this!", only to hit publish and watch as absolutely nothing happens.
I know I've done it, and it sucks.
How a typical content marketing strategy looks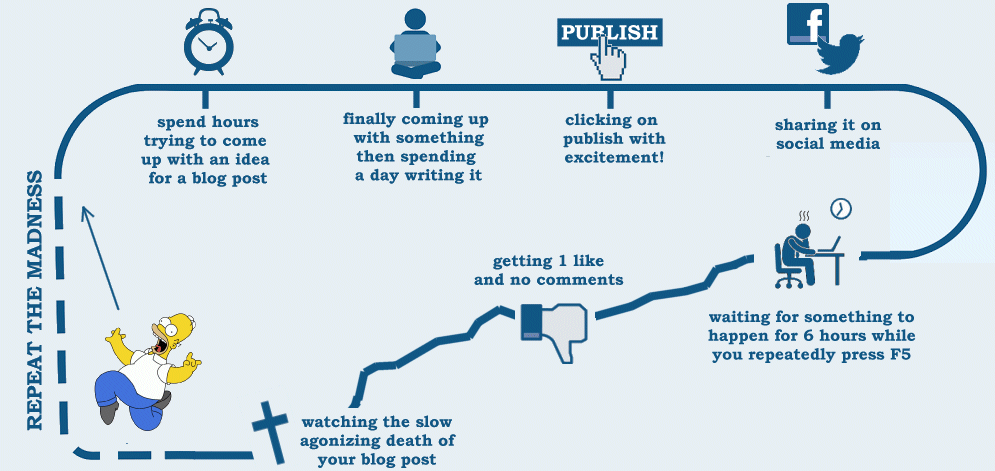 For many, the graphic above is unfortunately too true.
When it comes to publishing content, or "blogging", there's nothing worse than –
Spending hours trying to think about something to actually write about
Finally coming up with something, then taking a whole day or weekend to write about it
Sharing it on your social media pages, then
…checking back a day later to find it's had 1 like and no comments
Rands video really hits home
After watching Rand's video, it made me realise just how bummed out of people are when it comes to creating and publishing content. Infact, here's an email I received today from a client and it read,"As we've talked about, finding time to create content is a challenge. Especially given that there are much more direct and effective ways for me to market than putting up content on our blog."
Hearing this came as no surprise. It really isn't anything new. Infact I hear this often from business owners when it comes to creating content.
The problem is, many business owners simply don't see any value in publishing content. They see it as a chore, rather than a necessity, and I can understand why.
Here's a collection of statements that I hear all the time –
"We don't have time"
"It's not something we're really wanting to focus on"
"No one will read articles about …XYZ"
"It just seems like such a waste of time"
"We'll just outsource it to someone else"
"We don't know what to write about"
"Our industry is unique, content marketing won't work"
Whenever I hear business owners talk like this, I just know, they're in trouble.
Why?
Because if they're not publishing content, then chances are their competitors are – and if there competitors are, then they immediately have the upper hand.
Anyway, enough about that, let's get into the real meat and potatoes of why we're here.
How to get traffic from content
The following list are a collection of methods and strategies that you can implement right away in order to help bring more traffic to your website.
1. Frequency
A question was asked recently over at the SEO Hangout Panel by Kate Toon, where she asked,
"Hi guys, looking for some thoughts on whether 'newness' and 'regularity' affects ranking when it comes to publishing content. What I mean by this is so many folk bang the 'publish regular fresh content drum' but is infrequent and awesome better than regular new and crappy? Does 'new content' beat 'great content' in your experience?"
There are two answers to this.
Firstly no – regularity has nothing to do with rankings. If that was the case you could fire off automated rubbish every few hours at your blog and it would perform. Thankfully, that doesn't make any sense as a quality signal.
Secondly, "is infrequent and awesome better than regular new and crappy" …
The answer to this is …."Frequent and awesome" (crappy is always crappy regardless)
Unfortunately though, many site owners make the mistake of thinking "more is better" when it comes to content. That is fine so long as the quality is there, however it can be very easy to lose quality, when you're thinking quantity, and that often results in you wasting an enormous amount of time.
The best strategy is to TAKE YOUR TIME and publish content that is absolutely fucking outstanding. Something that people would happily pay for.
Have a look at this. This is an email I received today from Brian Dean of Backlinko.

His blog now receives over 100,000 visitors each month – that's huge. You think Brian is cranking out a blog post every half an hour? I don't think so. Instead of thinking "more, more, more", think "quality, quality, quality." 3 x 2,000+ word blog posts a week is much better than 10 shitty 600 word boring articles.
Keynote – Publishing awesome content frequently will build a loyal audience because they know each time they come back, they'll get something of value, which they'll love. When that happens, it's a snowball effect, with people telling more people, and so on.
2. Timing
Here's one that doesn't get spoken about too often, but it's definitely something to be mindful of – and that is timing.
Timing is important because its about knowing when your audience is likely to be online. There's no point hitting publish and sharing your content at 3am on a Sunday morning when most people are in bed. You'll want to hit their inbox or social accounts during the week around lunchtime, or at least at a time that is appropriate to your audience.
Ask yourself, "When is the best time to broadcast this blog post?", "When is my audience most likely to be online?", "Should I really share this business related article on a Saturday afternoon?", "Which content performed the best, and at what time did I share it?"
I know for my own content, I make sure to broadcast it during the busiest parts of the day, and typically early on in the week (between Monday and at least Thursday) I don't have anything against publishing on a Friday or over the weekend, but most people are out enjoying themselves and doing other things.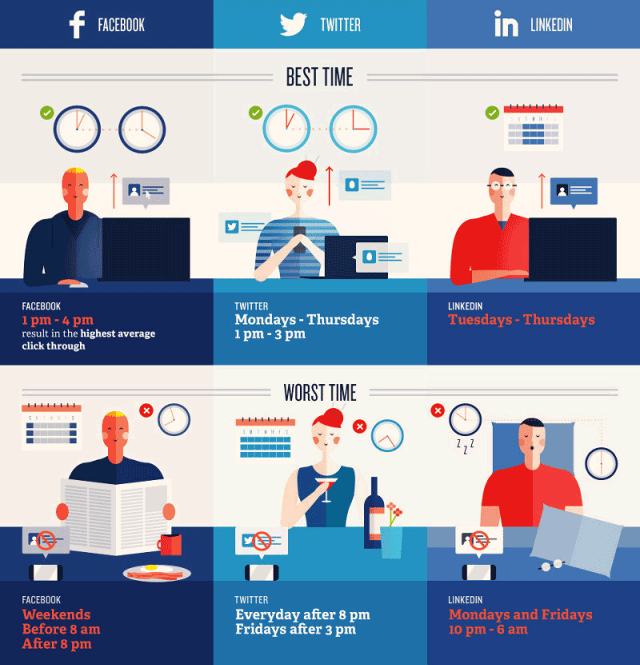 Check out this article by Rachel over at Fast Company for more information about the infographic above.
Keynote – Publish your content at the most effective time of the day in order to get as many eyeballs as possible.
3. Emailing your list
Email marketing is still undoubtedly one of, if not THE most effective forms of direct marketing on the web. So it makes sense to be doing it, especially if you're going to be investing your efforts towards content marketing.
The best thing about email marketing is that you can get instant traffic to your site, just with a few clicks of a button.
So make it a habit. As soon as you've published content to your site, be sure to broadcast your message and let everyone know about it that's on your email list.
This is super important.
Keynote – The easiest way to get traffic and build an audience is via an email list. It prevents "starting from zero" each and every time you publish a piece a new piece of content. PS. I recommend Aweber
4. Content syndication
What is Content Syndication?
Search Engine Watch defines content syndication as follows…"Content syndication is the process of pushing your blog, site, or video content out into third-party sites, either as a full article, snippet, link, or thumbnail."
Also known as "sharing the shit out of your content".
In other words, sharing your content as far and as wide as possible across as many channels as possible to get the biggest possible reach. There are many ways to do this, via social media sites such as Facebook, Google+, Pinterest, Linkedin and so forth, as well as many others like Slideshare (for sharing powerpoint presentations), Info Graphics Archive, (for sharing info-graphics) and Docstoc (for sharing PDF's etc) and of course Youtube and Dailymotion for video content.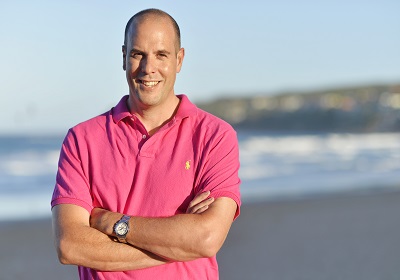 When it comes to sharing your content and getting traffic to your site, you'll want to be everywhere. Publishing a blog post on your website and then doing nothing with it isn't going to do anything – so you need get it out there, across as many platforms as possible.
Infact this is something that Pat Flynn spoke about back in 2011. There's a pretty long video (it's about an hour long) you can watch here on Smart Passive Income where he explains this strategy, and it makes good sense. Being on numerous channels puts you in front of a much bigger audience, and with that, comes more traffic, more social engagement and more moolah, right?
James Schramko was also another one teaching this method, (although a slightly different variation) and I think it is one of, if not the best ways of approaching content syndication. You can learn more about James here, or check out his FREE "Own the Racecourse" training program here. (I recommend it)
In any case, publishing a blog post to your site then not promoting it is like trying to make a honey sandwich with a cotton wool tip. You just wont get the spread. Grab the biggest butter knife you can find and lather that puppy up!
Keynote – Work towards syndicating your content across as many channels as possible. Don't just fall into the trap of sharing on Facebook and Twitter then stopping. Use some creative thinking. Look for untapped markets. Go where your audience already is.
5. Re-purposing
Let's face it, the thought of having to create Powerpoint slides, PDF's, videos, blog posts and podcasts probably seems absolutely overwhelming right? Of course it does. It simply wouldn't make sense to try and do all of those things each and every day – especially if you're a time poor business owner.
But here's the secret.
Instead of trying to create new pieces of content for each channel – REPURPOSE one piece that you already have, to suit multiple channels. For instance, I could do the following with this blog post –
Publish this blog post on my site (done)
Go over to Print Friendly and convert this entire blog post to a PDF document, then upload to Slideshare, Docstoc and other document sharing sites
Record a discussion with Byron Trzeciak of Pixel Rush and turn this blog post into a podcast episode. Then upload to Soundcloud, iTunes, Stitcher and Podbean
Take a feature photo, and the recording from the podcast and upload it to Youtube, Vimeo or Dailymotion
Convert the entire blog post into an infographic and share on an infographic sharing site
Upload some of the images I used and share on Pinterest or Flickr
Then of course I could share all of these efforts across social media
It really is endless to how far you can push just ONE piece of content.
Keynote – Get the most mileage out of your content. Publishing a blog post entry is nice, but really ramping it up is something else. Be creative. Be everywhere.
6. Outreach
Okay, you're going to love this one.
What if I told you, you could get backlinks and traffic within a matter of hours to your most recent blog post entry? Sounds like BS right?
Grab a pen, I'm going to show you this quickly.
Once you've published your blog post entry, go to Google and perform some searches based around terms that are HIGHLY RELEVANT to the content you've just published. For example, for this blog post where I spoke about getting backlinks I might go to Google and search for "how to get backlinks".
You can see the results I got below.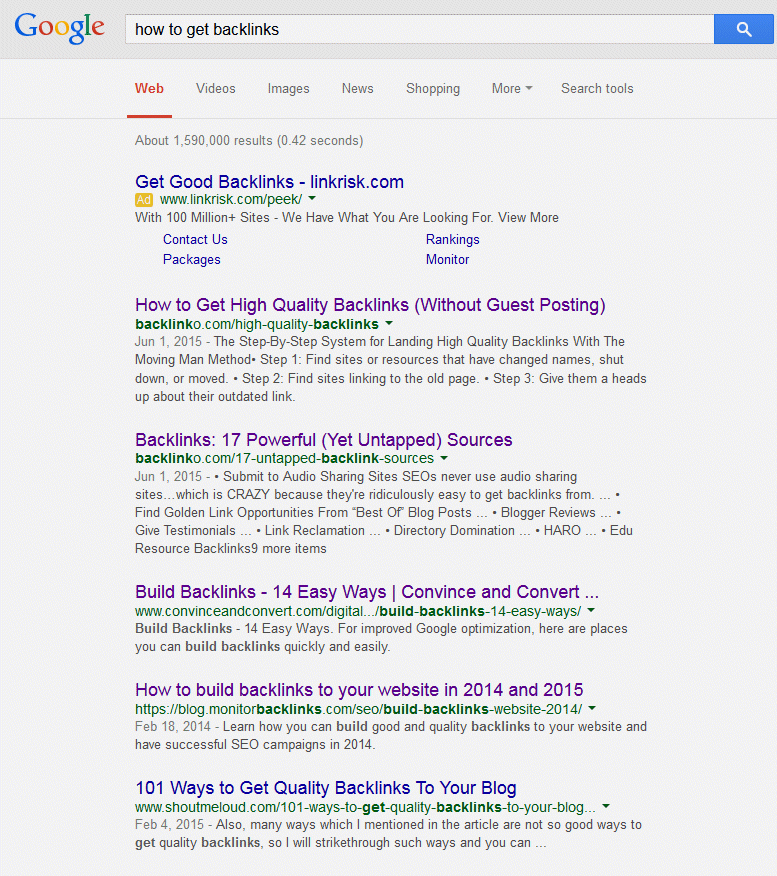 You can see a few of the results I got for that search with them being –
http://backlinko.com/high-quality-backlinks
https://blog.monitorbacklinks.com/seo/build-backlinks-website-2014/
http://www.convinceandconvert.com/digital-marketing/build-backlinks-14-easy-ways/
…and so on.
Infact there are pages and pages of results, too many to mention.
Okay, so what we'll want to do next is take the URLS of interest, and enter those into ahrefs. Here's the first set of results for Backlinko. (the first result in Google)

As you can see, this one article by Brian Dean at Backlinko attracted over 124 links, from 68 different websites. Not bad. So let's now try to get some of that action.
The next step is pretty straight forward. Export the list of those 68 websites that are LINKING TO that article on Brian's website, and put them in a spreadsheet.
Like this. (you can see I've highlighted the actual pages that contain the link to Brians article. I've also sorted by Domain Rating desc because I only want to focus my efforts on good websites)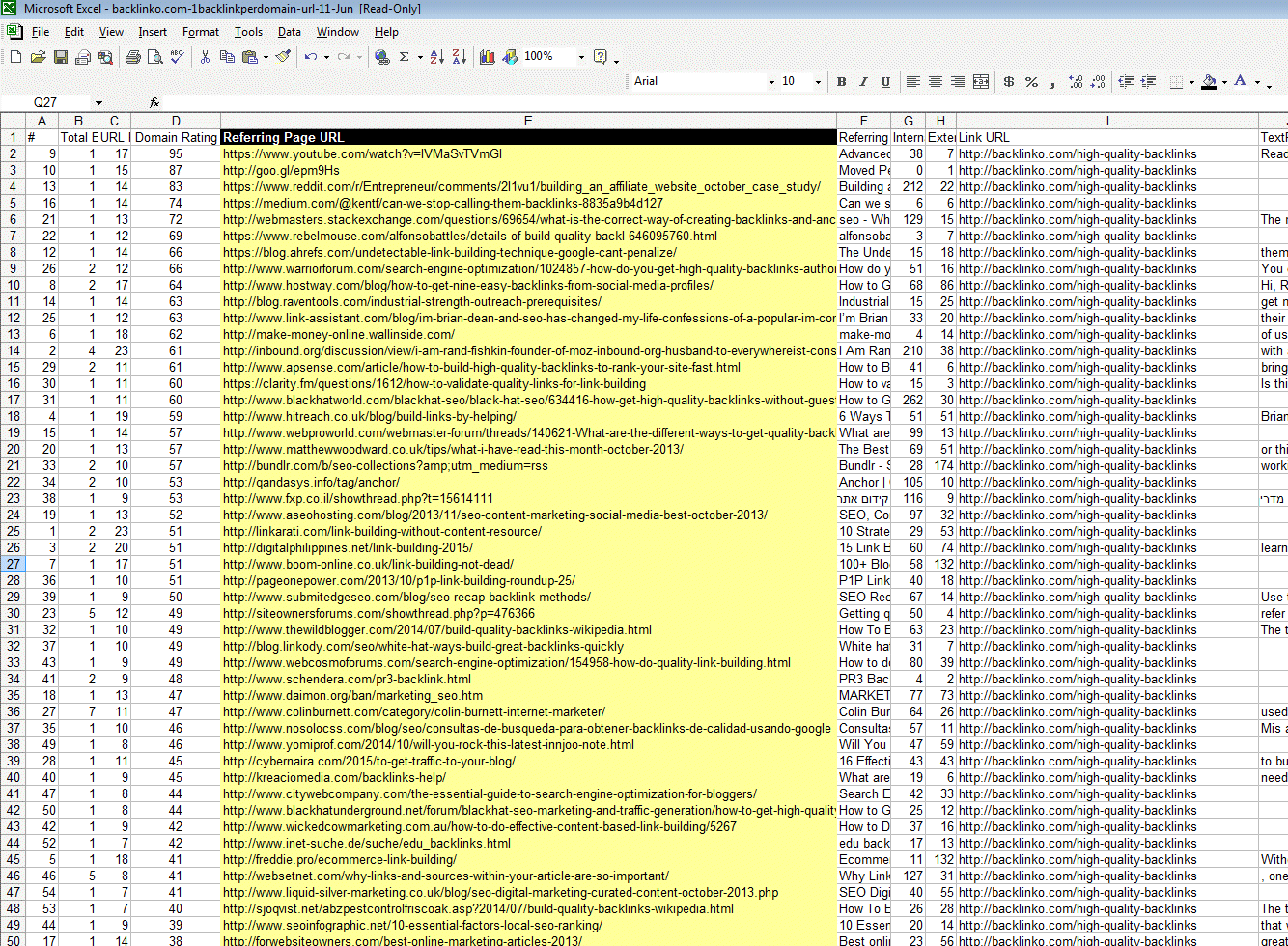 Once you've got this information, you can then go about contacting site owners and asking them for a link.
Here's the outreach template that I use.
Hi,
I was just reading over an article you published on your site at <insert URL here pulled from spreadsheet> which I thoroughly enjoyed. Your points made about <insert your thoughts or observations, comments here> were <how you felt about it>.

<Name>, I wanted to get in touch as I noticed you had linked to <insert target URL here> in your article (which in this case would be http://backlinko.com/high-quality-backlinks)

I was wanting to ask if you would consider linking to my article also as it <touches on the same topic/is similar/is better/provides a different perspective or view>

You can view it here <insert your URL here>

I'm sure as it's highly relevant and on topic it would make a great addition to your page. I'm sure your readers would love it too.

If you need to get in touch for more information, just respond to this email and I'll reply as soon as I can.

Kind regards,
<your name>
What's really powerful about this method is that I can export the links from dozens of websites, which means my spreadsheet and outreach opportunities might be absolutely huge!
Keynote – Be sure to actually read the blog post first before just firing off some random email. Try and get the site owners name too, as it will make the email less spammy and yield better results.
7. Promote and repromote.
Derek Halpern of Social Triggers says, "You don't have to create content, day in, and day out. You just have to work on getting the content you already have… in the hands of more people."
By this he means, spending less time creating content, and MORE time promoting it.
Infact he says spend 80% of your time PROMOTING your content, and the other 20% creating it.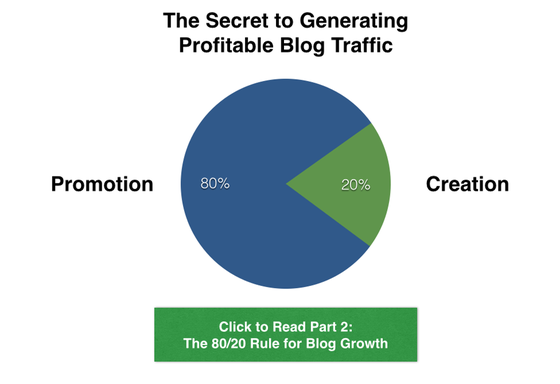 Image courtesy of socialtriggers.com
I'll admit, the first time I heard this I thought he was full of it. I thought to myself, "Yeah right, I send someone an email asking them to link to me, or if they could share my article with their community or group, and they'll tell me to piss off"
And guess what?
I was probably right – because my content SUCKED.
If you follow my advice above about creating absolutely outstanding content, content that people will want to PAY FOR, then you're more likely to have people happily promote it. If it's crap, then you may as well just forget about it. This is why it will always be in your best interest to take the time to create "10x content" as Rand Fishkin says.
Oh, and what is repromoting?
Repromoting is revisiting blog posts that you may have published previously, whether it be a few days ago, a week ago, or more, and going through this process over again. Remember, not everyone will see your content the first time round, so don't be afraid to push it a few times.
Keynote – Spend less time creating content and more time promoting your content in the right places.
Conclusion
That's it for now. If you have any other suggestions as to what might be working for you, please leave a comment below. Of course if you've found this information useful, I would really appreciate it if you shared it via social media with your friends!