Okay, so you've just launched your new site.
You've gotten rid of that horrible dated look and updated it with a more modern, stylish design that has everyone crowding around giving out lots of "Oohs", and "Ahhs".
Happy days.
But wait a minute, what about your SEO?
Have you taken everything into consideration during the change over? Are you sure you've done everything you needed to during the upgrade?
Or is there something you've forgotten or overlooked?
It's at this point when you start to wonder….
Did I set all of my 301 redirects correctly?
Can other people access the website okay?
Is there anything that I've missed?
Does my site still work?
It can be a bit worrying when you finally flick the switch and go live with a new design – especially if your site is sitting at the top of the search engines.
The last thing you want to do is ruin your rankings, because let's face it – it probably took you ages to get there, right?
Okay look, if you've just upgraded the design of your website, and you've made considerable changes – such as changing the URL structure, or significantly altering the content – then this handy reference list will help put your mind at ease.
Let's have a quick look at a few key areas you'll want to monitor straight away, as well as others over time once you go live with the new site.
1. Ensure your site is crawlable
This might sound obvious, but believe it or not, I've seen site owners redesign their sites, launch them and wonder why after a month, they're nowhere to be found in Google. In most cases, they've accidentally set a "disallow all" within their robots.txt file. This can sometimes happen due to error, or it's just missed altogether. Often a disallow all is set during the actual development of the site to prevent unwanted crawlers gaining access whilst the sites in development.
However, it can get ugly real quick if you forget to "unblock" search crawlers when you go live. So this is definitely something you'll want to check.
Screaming Frog
The easiest way to ensure your site is crawlable is to use an application called Screaming Frog. It's free for basic stuff, which in this case should be all you need. You can download it here. It's really easy to use – just enter in your URL and click on START. If there are any issues with your robots.txt file (that is, blocking search crawlers etc) you will see it right away as shown below.

Of course if everything is okay, it should look more like this.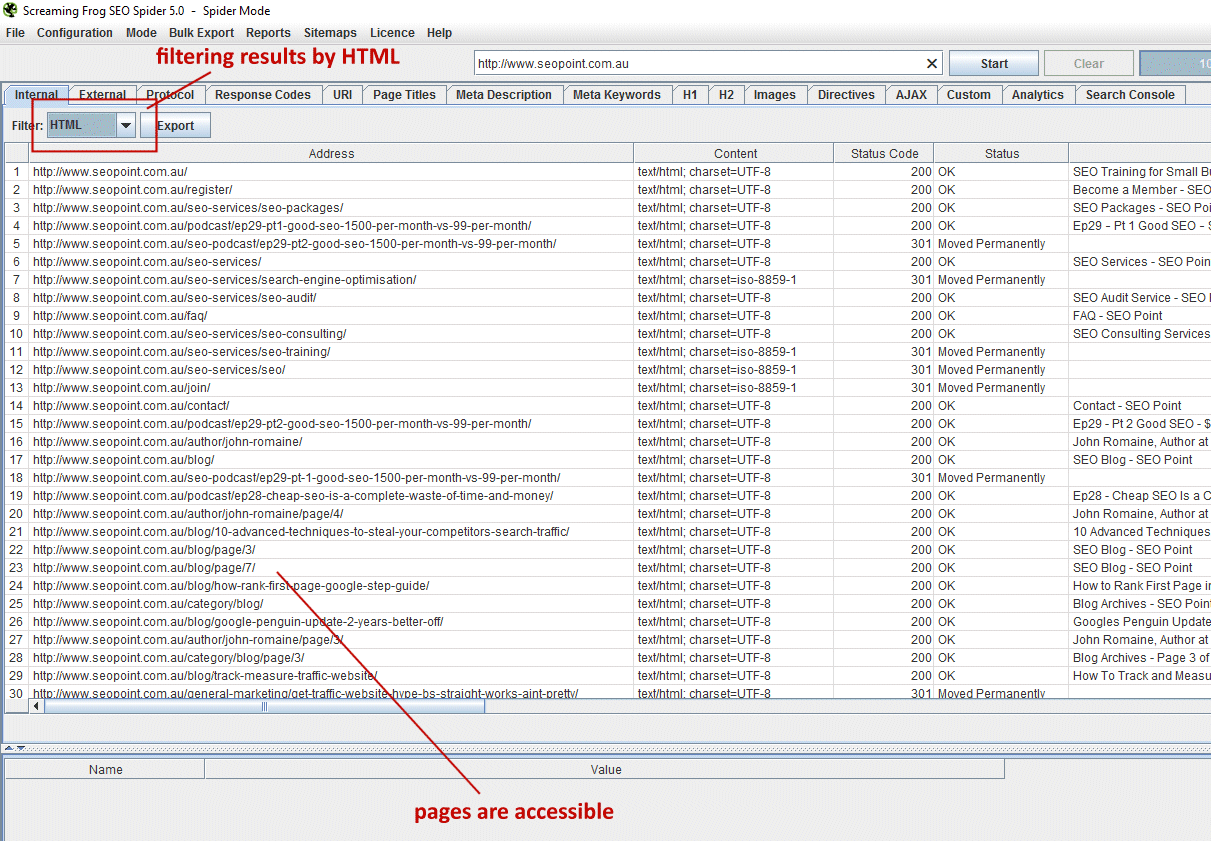 You can see how the software has been able to successfully gain access, and crawl all of my sites pages. You'll notice that I've filtered by HTML in this instance. I do that because I'm only wanting to check against my sites actual pages – and not so much the other stuff.
Of course, when you're doing this, you should be looking closely at your URLs and ensuring that they're ALL THERE.
If you've got something screwy in your robots.txt file, chances are you might be accidentally blocking a folder or subfolder. So be sure everything looks okay before moving on.
If you're not sure on how best to handle robots.txt files, then be sure to go here.
A word of caution though – if you screw anything up with your robots.txt file, you could end up crying yourself to sleep at night – so be careful. Or better yet, get someone that knows what they're doing to help you.
NOTE – If your robots.txt file looks okay and you're still experiencing crawl issues, you might need to check pages individually for instances of "noindex, nofollow" within the meta tags.
2. Check your 301 redirects
This might sound excessive, but when I'm done rolling out a new site (one where I've changed up the URL structure significantly) I like to go directly to Google and perform a "site:URL" search. I do this because I want to know, with absolute certainty, that users are landing on the right pages when clicking through from the search results – and NOT hitting 404 pages.
So for instance, if I'd just changed up my own site, I would go to Google and type in site:https://www.seopoint.com.au
This will show all of my pages, within Google's index.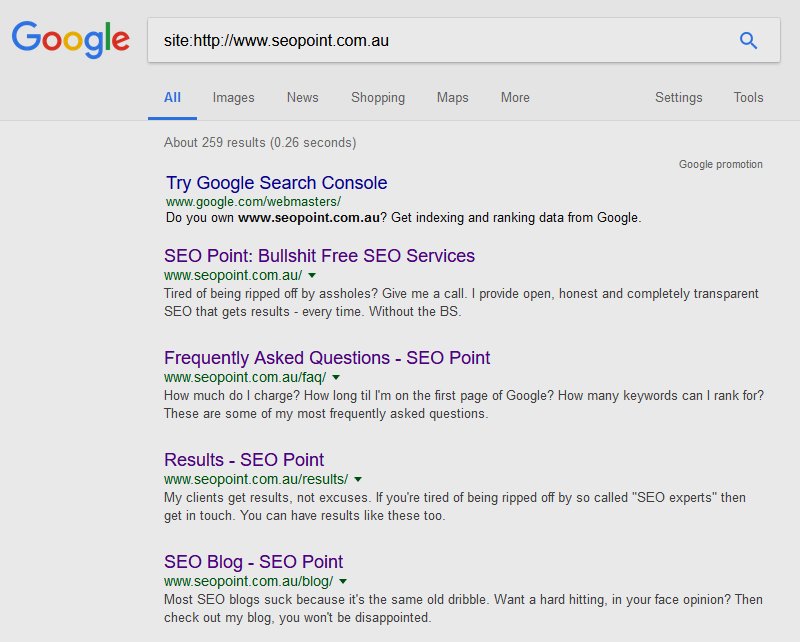 I would then look at each URL, click on it, and ensure that I'm being redirected to the correct page. Again, this might seem excessive, but when it comes to 301 redirects, I don't want to take any chances. I want to know for sure, everything is working as intended.
You might be thinking "Wow that seems really time intensive". Sure, it is… but I'd rather spend time checking like this, than be running in circles in a mad panic a week later tying to figure out why my search traffic has fallen off a cliff.
Of course if you have an incredibly large site with thousands of pages, you might consider using software or an online tool, such as this one to bulk check your 301s. Always be careful using software because its easy to miss things and make mistakes. That's why I like to check each page manually in Google.
By the way, just replace my URL with yours to do the same eg site:(your full url here)
3. Google Search Console (Webmaster tools)
Another key area to monitor is within Google's Search Console under "Search Analytics".
You'll want to watch both –
Keyword positions for obvious reasons, and impressions too, because if things go pear shaped, your impressions will be negatively effected also.
To find this data, log into Google's Search Console (which was previously called 'Webmaster Tools') and –
click on the property you want to monitor (that is the actual website)
click on Search Traffic
click on Search Analytics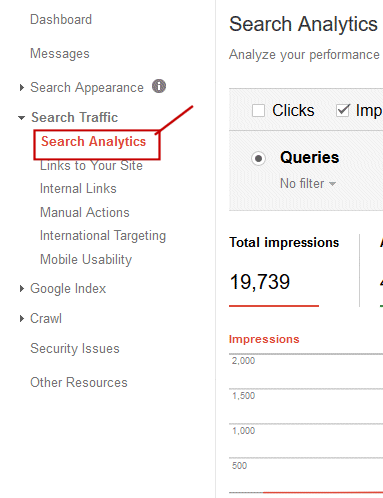 You will then see a chart that looks like something below (lets hope yours doesn't look like this!) where you can filter the data by impressions, CTR, positions and clicks.

You'll want to make sure those two lines are either steady, or trending upwards. If they're heading in the opposite direction – you need to take action – FAST!

4. Responsiveness
The next thing you'll definitely want to check is "responsiveness", OR ensuring your site is mobile friendly. Given that a huge amount of people browse the web on their phones, it makes absolute sense to to check this.
Again, I'm very fussy with this and like to test on actual devices, rather than relying purely on software or tools, because that way, again you'll know with absolute certainty that your site displays correctly on mobile devices. So typically, (when I can) I'll grab my friends tablets, laptops, and mobile phones and bring up my site to ensure that it renders correctly.
There are of course a number of online tools that you can use to check.
Here they are –
And this last one which is really cool which allows you to perform tests across a large number of devices with real time view.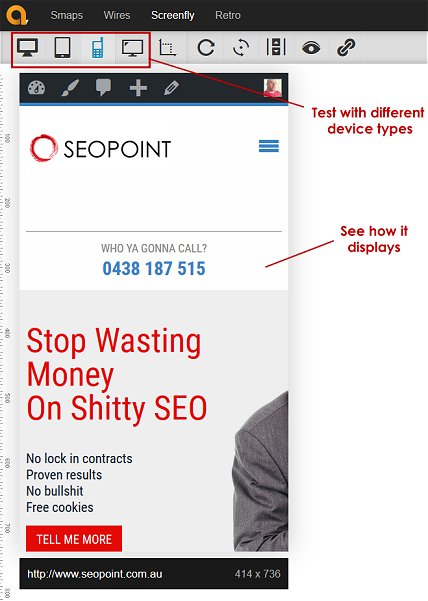 5. Site speed
Another key area you should always look at is your site speed. Especially if you've changed hosts. Even if you haven't, this is definitely something that should be tested.
You'll want to ensure that your site speed is up to par.
There are a number of great tools online that can help you with this. Here they are, in order of preference –
If you're concerned about your site speed, be sure to check this article here that I wrote that shows you how to improve site speed. (WordPress only)
6. Conversions
This one isn't necessarily SEO related, but it's certainly worth mentioning.
Most importantly, you'll need to ensure that your site actually does what it's meant to do. Whether it's generate leads, sales, or signups.
Be sure to perform the following tests –
Customer enquiries – send yourself a test enquiry through every contact form on your website. Do them all, not just the contact form. If you have forms in the sidebar, be sure to send enquiries through those too. Of course you shouldn't need to test every single form, but be thorough. The last thing you need is to have people trying to contact you and your web forms aren't working.
Test purchases – If you're running an e-commerce store, be sure to perform a test purchase. You might even want to setup some test products and price them low ($2 each or something) and have someone try buying them. It's best to have a friend on another computer do this, because often you can't buy from yourself – especially if you're using Paypal. In any case, make sure your site is actually working, and that people can buy your stuff.
Signups – this is for sites where they might be collecting emails. As above, with enquiry forms, make sure your forms work, and the signup process is operational.
Conclusion
Any time you make considerable changes to your website, such as a rebuild or redesign, you should be making every effort to ensure your site continues to perform well overall. This is exactly why I monitor absolutely everything. Call me paranoid, but if somethings not right, I want to be on top of it, straight away.
If you have something to say, I want to hear it. Perhaps you'd like to add something? Perhaps you know of another tool or resource that's useful to help during site upgrades? If so, post up your thoughts or comments below. I respond to every comment.